Welcome to Sash Window Experts – your local expert craftsmen for the renovation and restoration of original period sash windows. We have more than 20 years' experience in repairing, restoring or replacing all kinds of sash windows in Tunbridge Wells, Kent, Sussex and the whole of the South East.
A passion for preserving our heritage
Did you know that, over the years, nearly 75% of the UK's original box sash windows have been lost as a result of demolition, to make way for new buildings and new types of windows?
Here at Sash Window Experts, we truly care about our British housing heritage and are dedicated to preserving our beautiful period windows. In fact, we've made it our business to repair and renovate historic sash windows wherever possible. With our help, homeowners can keep and enjoy their desirable traditional window features, allowing part of our British building design heritage to continue into the future.
Sash window restoration services
If you love the period charm of your sash windows, but you're fed up with the drafts, the rattling and the noise, or your windows are stuck or have been painted shut, our dedicated team can restore your beautiful windows to their former glory.
Our woodwork professionals and craftsmen provide a range of high quality sash window restoration, renovation and draught proofing services. Using specialist manufacturing techniques, we can breathe new life into your timber sash windows. Not only will this help to stop drafts and water ingress into the building, you'll also see a welcome reduction in your energy bills as a result.
Sash window repairs can deal effectively with minor windowsill decay and paint deterioration, timber rot and damage, to restore your period windows back to their former glory.
Full sash window restoration may involve smoothing out any paint building up, priming bare wood, realigning the meeting rails, installing unobtrusive seals and generally reinvigorating your traditional sash windows.
In the unlikely event that your beautiful sash windows are beyond economical repair, we can manufacture and install new double glazed sash windows, in both softwood and hardwood. Incorporating warm edge technology, our sash window replacements will retain the period look to enhance your property.
For your peace of mind and to ensure complete customer satisfaction, all our sash window restoration services come with a guaranteed standard of service.
Recent sash window restoration projects
In this sash window restoration Tunbridge Wells, a bathroom window had had its sashes removed 40 years ago. Sash Window experts reinstated the sashes in hardwood and draught proofed the entire window.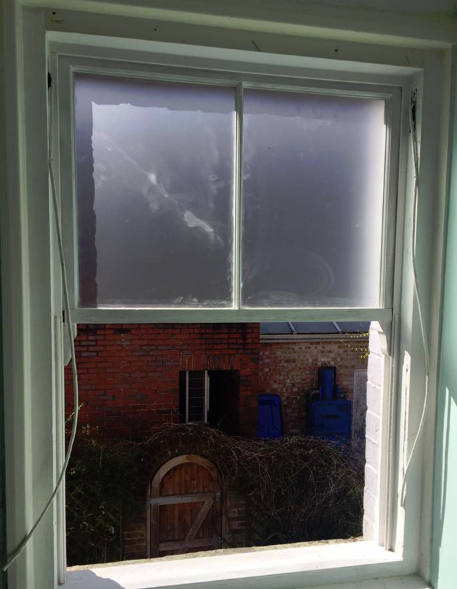 The original sash windows here were running with condensation, and a sash window replacement with new slenderline double glazed sashes was carried out to successfully remedy the problem. To avoid replacing the twisted and rotten timber back door, we decided to repair the door with hardwood timber replacements where necessary, while draught proofing and realigning the door in the existing frame.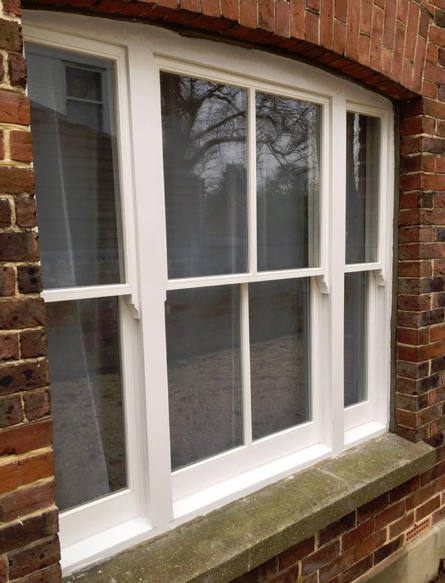 For all your traditional window repair needs, Sash Window Experts should be your first port of call. Serving homeowners all over the South East, we are delighted to be receiving much positive feedback from satisfied customers.
Thank you again for doing such a wonderful job on our windows and doors. We are over the moon with our smooth, gliding, beautifully finished windows, not to mention the fabulous front door and gables! The whole team deserve huge praise for their effort, speed and efficiency and joie de vivre – we couldn't be more pleased with the whole process and outcome!"
(Sue and Chris)
For more information about our sash window restoration services, or to discuss your particular traditional window issues and to obtain a no obligation quote, please contact us today. You can call Sash Window Experts on 01892 269011 or send us a short message via our Contact Us page.